We had a lovely Spring and Easter celebration in our English club on Monday evening in Seinäjoki, Finland.  Energy is usually high when the children arrive to English club, but this time it was especially joyful since it is party time! Children dressed up in costumes some according to the Finnish Easter tradition as witches, others dressed up in costumes like a bunny, cat or even a few in bright yellow color clothing. This opportunity to dress up or not is a form of expression from the children, this aspect is brought about in our club in many ways, shapes and forms. Each unique individual is seen and heard through their different forms of expression. This is something we value in order to have meaningful learning experiences and to grow.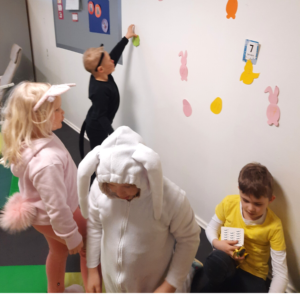 To start off our club, first we sang a familiar 'hello' song which is an important routine in the club.  After this the energy is high so we usually play an active learning game.  I had number flashcards inside my bag, but before we took turns pulling a card out of the bag we sang the 'what's in the bag' song.  Another important activity for the children it brings routine, sparks enthusiasm along with practicing social skills.  The children picked out a flashcard then had to run to the other side of the room and find the matching bunny, flower, or chick with the same number on it.  We continued with this activity for several minutes.  After this we reviewed season vocabulary and learned new words and how to wish a Happy Easter. Then we had another learning activity according to our Spring and Easter theme, an egg spoon race. Not only is this a fun competition, this activity develops motor skills.  We had a race for time individually then we made pairs and had a team sprint.  The look on one of the girls' faces when she found out her team won the race, it was priceless! I do not think she has competed in team races before.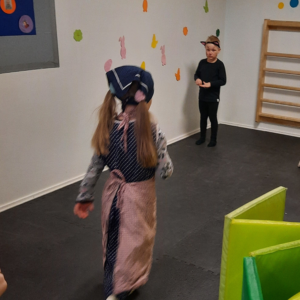 Then it was time to calm down and sit down to watch a video about Easter celebrations in Great Britain.  Then after the video we discussed the similarities and the differences of the Finnish Easter celebrations. We talked about the celebration Sham Ennessim, which is a Spring festival in Egypt.  Even one child started to mention different languages and word meanings.  Then we talked about Spring season and what happens in nature in Finland and in other countries. We found many similarities in these cultural celebrations, such as spending time in nature, celebrating with close family and friends, and special holiday foods and treats are important. By learning about other countries', cultures, nature, environment, holidays and celebrations we can deepen our understanding of where we come from, our culture and ecosystem, as well as understand the diversity of our planet and human race.  After this discussion it was time to have an egg hunt.  Children raced to the other side of the building to find their Chocolate egg, this was a truly joyful event!  To end our party we enjoyed some sweet treats together and close with a familiar song.  Happy Spring time to you all!