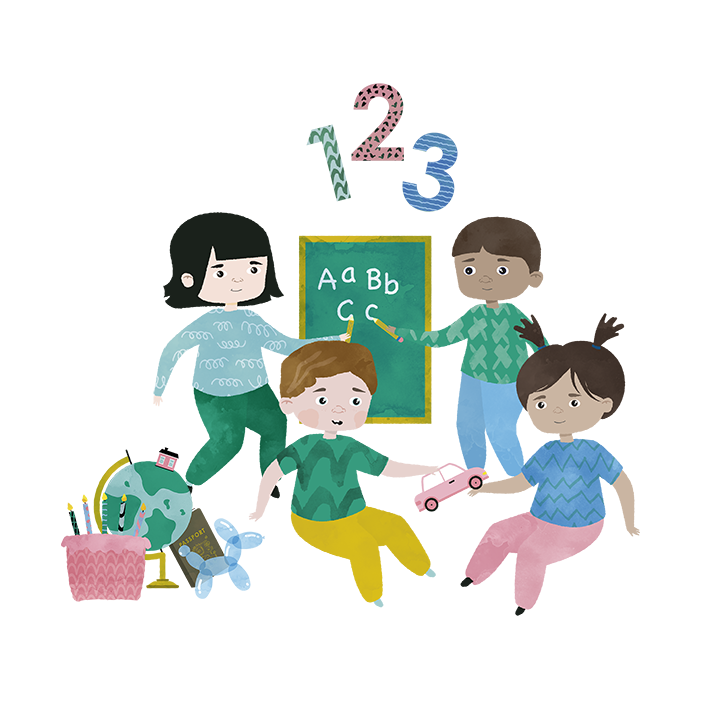 EARLY CHILDHOOD EDUCATION
Learn together at school
The Language Clubhouse online program is a modern tool to help teachers start up and develop their methods of English teaching as an additional language to young children ages 3-8. Our curriculum is based on Bilingual pedagogy and CLIL pedagogy. Our program is a flexible pedagogical solution full of comprehensive learning materials which are age appropriate and supporting the core developmental areas in early childhood. We provide exposure to the foreign Language English without requiring extra time in the curriculum. Our 12 interesting topics fit into any Early Childhood Education curricula and can be easily supplemented into the local curriculum while supporting the teachers work flow.
Our curriculum and online program includes 48 ready to use lesson plans including learning materials e.g. tutorial videos, music, songs, rhymes, stories, games, worksheets, etc.  Each lesson starts with a tutorial learning video for teachers and students alike to watch and get orientated for the lesson.  Any teacher can start up teaching English as an additional language to young children with our clear and simple operating model.
Studies show that early language teaching is effective if it is of high quality and age appropriate. Our program and curriculum supports the Finnish Early Childhood Curriculum. Each week 5-15 new words are introduced and all the content in the weekly lessons supports the expansive use of the vocabulary introduced through our pedagogical solution based on flexible diversity.  Our content is designed and developed in Finland.
Save Time
Developed by teachers for teachers
A diverse curriculum developed around 12 topics. 12 topic courses, each topic has 4 lessons: 48 lesson plans, 48 tutorial learning videos, over 250 flashcards, 40 songs, over 100 worksheets, rhymes, games and much more!
Save resources
Easy and modern teaching method
Our program is available through our own online learning platform. All the content is right at your fingertips. Bring consistency and ease into your teaching methods. Start the lesson off with the tutorial learning video and begin, only takes 5  minutes to prepare for a new lesson. A simple solution for educators.
Fun and active learning
Getting familiar with language and culture
Interesting content developed for young children and to support core developmental learning. Explore the English language and increase linguistic and cultural understanding. Our 7 characters bring their cultural backgrounds to life in our 12 Language Clubhouse stories.
For Schools
Teaching Materials