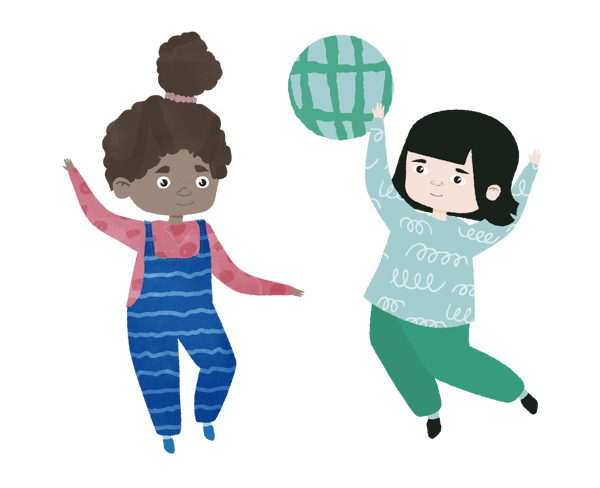 For households
Fun for the whole family!
Get familiar with the English Language by having fun playing together!  Little ones ages 3-8 can learn a new language in a natural and casual way right at home. Our program includes 12 online topic courses, 48 ready to use lessons and learning materials. Each lesson starts off with a tutorial learning video to watch with your family to get you ready for the lesson and playtime in English.  Our fun and active educative materials support linguistic and cultural understanding.  Our 7 Language Clubhouse Characters bring to life their cultural backgrounds in our stories.
Learning at home in a casual and child friendly way increases early positive experiences of language learning and increases quality family time spent together.  Our twelve interesting topic courses are designed and developed  by early childhood professionals in Finland.  We want to help you support your children in subject learning and bring joy into the learning process by increasing family fun time at home.
Yogman, editor-in-chief of the American Academy of Pediatrics 2018, states that "Play can relieve stress and the leadership skills developed through play can foster resilience, and play can restore safe and caring relationships with parents, teachers and other children, which also increases resilience." 
"Especially when starting language studies, the principle of the joy of learning is especially important, as positive experiences and good memories encourage you to continue studying later in life."  (Rantala, T. 2006)
Safe and Easy
Safe and Easy
Our program gives you the tools to start teaching your child English easily. Our platform is Browser-based and mobile friendly and works on any device. Each lesson has a learning video with a real teacher and students and educational materials.
The younger the better
Spark an interest
Studies shows that the younger you are introduced to and start learning a foreign language the easier it is. Also the more motivated the child is to learn more languages in the future.
Play together
Learning together is fun
Our goal is not to increase your child's screen time, but to increase quality playtime as a family together. We combine good old fashioned playtime with modern technology to provide happy learning moments with your children.
For Households
Teaching Materials