Heli Vigren, Doctoral student at Turku University explains that learning additional languages promote "health" and "well being" of the whole society, including children. Vigren states that "Multilingualism promotes participation and inclusion in an increasingly diverse society. Learning a language is always also learning a culture. Understanding diversity increases tolerance and enables people to work together with culturally diverse people, thus increasing the well being of all children and young people."
How does early childhood additional language learning promote the "health" and "well being" of children?...I'm glad you asked. Let's explore together some of the main benefits of learning a second language at an early age.
5 BENEFITS OF SECONDARY LANGUAGE LEARNING AT AN EARLY AGE:
1. CHILDREN:  LEARN FASTER AND EASIER
Children's brains are like sponges, designed and capable of absorbing new information without much difficulty or effort. Their brains develop 90% by the time they reach age 6, as discovered in the 90's with the development of advanced technology and neuroscience-and imaging. The early years are a crucial time in forming loving, healthy social relationships with others and "healthy" and "positive" learning experiences.
2. CHILDREN:  IMPROVE THEIR PROBLEM SOLVING SKILLS
Children's brains are constantly being exercised and stimulated because of secondary language learning. Because of the constant working of their young minds they become proficient problem solvers and creative thinkers. They are able to multi-task and show great concentration in their learning experiences. Because of their secondary language learning they become good listeners and critical thinkers who often excel in reading, writing and math skills. They score higher on standardized tests than their counterparts. Their mental acuity and flexibility set them up for future success.
Language learning and the use of different languages are good for brain function and health, increasing the cognitive reserve. (healthylinguisticdiet.com)
3. CHILDREN:  DISPLAY EXCEPTIONAL SOCIAL SKILLS
Children who are learning a secondary language are more open and accepting of other cultures and display a healthy respect toward others. When young learners gain familiarity with other cultures and languages at a young age it is beneficial for them in many ways. Not only are they gaining foundational learning and academic skills for the future but equally important they are acquiring the necessary social skills to succeed in life.
4.  CHILDREN:  BECOME ABLE TO COMMUNICATE AND CONNECT WITH OTHER CULTURES
Children are able to communicate with people from other cultures and be able to learn about those cultures and perhaps have the opportunity to travel and visit those countries and experience those cultures firsthand.
Early language learning in a safe and familiar environment creates a good foundation for children's multilingualism. In the ever increasing globalized world we live in, English as a second language opens the doors of opportunity for future career choices. Children who have the opportunity to pick up a second language while they are still young appear to use the same language-learning strategies throughout life when learning other languages. Picking up a third, fourth or more languages is proven to be easier than learning a second.
5. CHILDREN:  DEVELOPMENT EMPATHY, CULTURAL SENSITIVITY  AND TOLERANCE
Children who learn other languages at an early age tend to show more empathy and can identify easier with the cultures associated with the language they are learning. Learning a new language and being exposed to other cultures helps to contribute to an understanding and appreciation of that culture as well as an open-mindedness. Respect, cultural sensitivity and tolerance grow because of this exposure to their language and culture.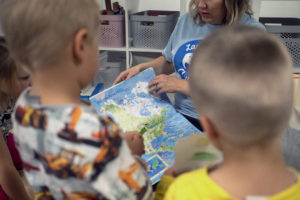 In our English Clubs in Finland many multicultural and multilingual children are eager to learn English and participate in the clubs. Many immigrant families have expressed their desire that their children learn the English language well since it is a common language and connects them with numerous relatives in other countries. Young children become proficient in the English language through playful learning activities and the instructions and interactions guided by able adults. When children are able to "master the task" they gain autonomy and as a consequence intrinsic motivation is increased. Therefore, early additional language learning needs to be arranged in a child-centered and age appropriate way and not be focused primarily on grammar-based programs. Following this approach will ensure the health and well being of the children and will prepare them for success.