28th of October 2020. It's my first day at the Language Clubhouse English club in Kallio, Helsinki. I am excited, happy and can't wait to meet my little tiny humans that will share with me their natural love for life in the next 7 weeks. I don't know them. They don't know me. But we have two big passions in common: we all want to learn from each other and have fun at the same time.
They are coming: 8 little smiley lovely kids full of life are looking at me. "Let's make a big circle!" I say. Our adventure starts. Thanks to lovely songs, little games, amazing and colorful worksheets they learn every week more and more. Yoga is one of their favorite activities. "A snake… and now a cat…" these are just a few of the animals they have to try to create through very funny movements.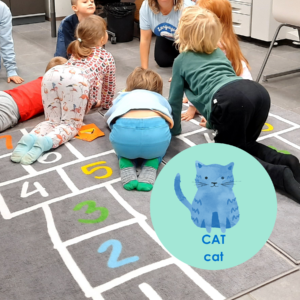 "Let's look at this flashcard! What do you see?". Oh, my lovely flashcards, the best way to learn new words without even realizing it. And, then, our creativity moment: kids love drawing their favorite animals, their family or just coloring the numbers they are learning. And, after all these activities, we relax reading a book. Some of them bring their own books, otherwise I always have one with me.
And, with a blink of an eye is already the 9th of December. "Elisa, we are going to miss you." "Don't think about it now, my darling! Let's make some Christmas cards! It's almost Christmas! Let's be happy!".  The classroom is full of joy and the Christmas trees start shining on the colorful papers thanks to the kids' creativity.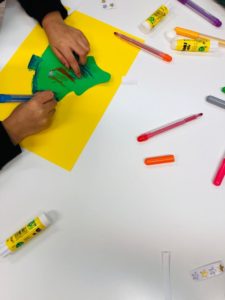 It's time to say goodbye. Now, I already know I will miss you. Every one of you. With yours "Elisa, Elisa look at this…" "Elisa, I want to read…" "Let's dance more!" "Again!". We are a big and special group now. But January is around the corner and I am already looking forward to seeing you all again. ALL OF YOU.
Seven weeks ago, I didn't know you. Now, you all have a special place in my heart. You. My lovely little tiny humans.