What a busy and exciting spring for Language Clubhouse!  The EdTech startup's first ever public pitch in Finland and abroad in Riga, Latvia.  
Language Clubhouse gives a playful head start to foreign language learning at school or at home!
Language Clubhouse took part in the first ever batch of EdTech Incubator Helsinki. The gala event and graduation was held on March 31st at the Helsinki Education Hub, and it showcased the first nine EdTech startups of the incubator program presenting their innovations in front of an audience.
Here is an article about  the event: link:https://educationhubhelsinki.fi/general/batch-one-of-edtech-incubator-helsinki-is-set-for-graduation-on-an-international-stage/'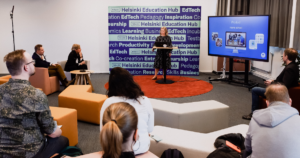 What founder Becky Luoma expected  from the event:
"I expected to get some valuable insights and feedback from investors and different stakeholders and that's what I got! "
Luoma believes that the company is ready to take its next steps towards larger investments and new markets. In addition to participation in the Incubator program, this has also been advanced by the events about funding and pedagogical impact organised at Helsinki Education Hub.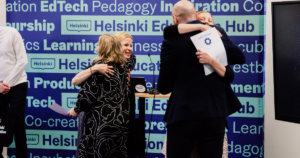 "That's a wrap!  We graduated! A straightforward and clear strategy for the future, that's what we are aiming to possess after the completion of the Incubator program. The goal for the company is to continue its' growth, Luoma envisions."
Post event News:
Helsinki's commitment to startups is already showing results: post event blog post:https://educationhubhelsinki.fi/general/world-class-services-provided-on-a-personal-level-helsinkis-commitment-to-startups-is-already-showing-results
Language Clubhouse has continued on a path to the next steps of growth and was selected as a semi-finalist to the TechChill Fifty Founders Battle in Riga, Latvia. Out of 212 companies from around the globe that applied for the battle 50 companies were selected to compete. 
50 semi-finalists : https://techchill.co/fifty-founders-battle-semi-finalists-announced-2022/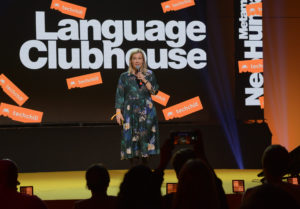 Language Clubhouse has launched EdTech products and services for teachers in pre-primary and primary education, and for parents of kids aged 3-10 years old.
Find out more about products For Schools here: https://language-clubhouse.com/schools/
Find out more about our products For Households here: https://language-clubhouse.com/households/ 
Sign up for a FREE trial English class online: https://clubs.language-clubhouse.com
Interested in a Pilot Project or to partner with us:  Please contact Becky Luoma by email or phone.
becky@language-clubhouse.com
+358409114110